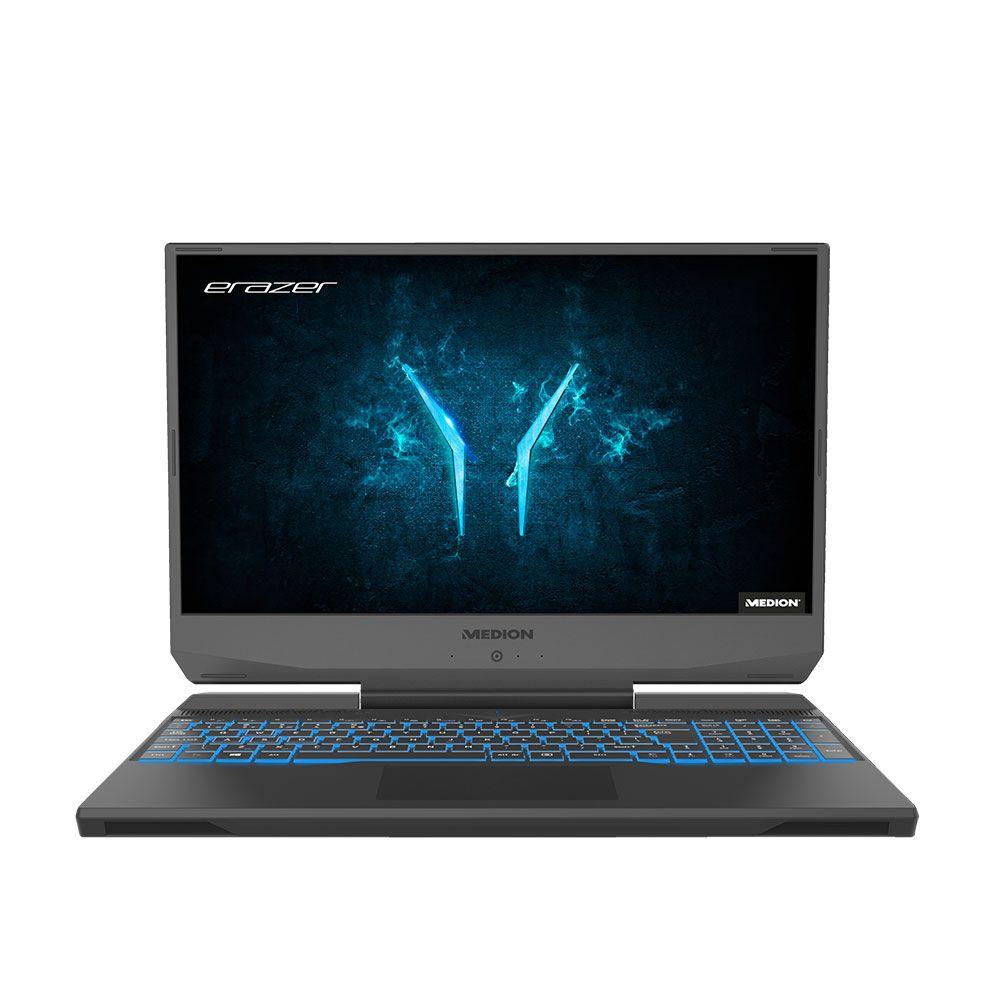 It is baseless if we say gaming laptops have taken over gaming PCs. The argument is still groundless, but we have seen some fantastic improvements over the years. There are high performance gaming laptops that can go head to head with desktops. And the best Medion gaming laptops rank higher in this list. These mobile gaming machines deliver high-speed gameplay with crisp visuals.
Today, we are going to talk about a top Medion Erazer gaming laptop. The Erazer Deputy P10 is a shining jewel in this gaming series. It is one of the best gaming laptops from the Medion gaming line.
Medion Erazer Deputy P10 is a 15-inch gaming notebook that comes in a thin chassis. It packs everything that you need for fast-paced gaming action. From high-speed Core i7 processor to Nvidia RTX graphics and splurging quantity of RAM and storage, it has got all the basics covered. Let's take a quick review of this gorgeous piece of technology.
Medion Erazer Deputy P10 Specs Review
Processor: Intel Core i7-10750H / 2.6GHz Max. Turbo Speed 5.0GHz
Graphics: NVIDIA GeForce RTX 2060 (GDDR6, 6GB)
Display: 15.6-inch Full HD (1920 x 1080)
Memory Size: 16 GB
Storage Capacity: 1TB HDD + 512GB SSD
OS: Windows 10 Home
Design & Build
The Erazer Deputy P10 comes in black color and follows a minimalist approach. It features an aggressive part-aluminum chassis like many high-performance gaming laptops. At the bottom-middle of its outer lid, there is an engraved Erazer logo. It features a central hinge while there are blue RGB lighting on both sides of the bottom case.
The keyboard deck and areas around the display are black. However, there are two major things that catch the eyes at the first glance.
Medion has places small grooves above the keyboard on both sides for air intake. The power button is placed in the middle, probably to offer quick access. Surprisingly, the laptop features a webcam at the bottom edge of its display. This is a brave move, but the placement is awkward.
Display Review
As mentioned, the bezels around the sides and top are thin. However, the inclusion of a webcam on the bottom edge has made it absurdly large. Nonetheless, the Deputy P10 provides a superb visual experience on its full HD display. It offers a high refresh rate of 144Hz, while the RTX 2060 GPU makes images crisper.
The display matches other high-performance gaming laptops in terms of gameplay productivity. You can cherish the 1080p gaming without flickering or screen ghosting.
Keyboard & Touchpad
The keyboard on Erazer Deputy P10 is a productive one. It comes equipped with RGB backlighting and anti-ghosting technology, which is not very common. The user can adjust the lighting, while the anti-ghosting feature helps you register all the key commands. In a nutshell, you will enjoy a comfy experiencing and can enjoy immersive gameplay.
This is a full-size keyboard that comes with a number pad. If keys are your thing, this is a top Medion Erazer gaming laptop Without any doubt. We found it comfortable as the keys offer a decent journey with appropriate feedback.
Connectivity Options
The selection and placement of ports on Erazer Deputy P10 are suitable for gamers. It features two fast USB-A 3.0 ports and one USB-C 3.1 port on the left. Additionally, there is a 3.5mm audio jack near the display edge. On the right side, there is the traditional USB 2.0 port, an HDMI output, and an SD card reader.
Medion has placed the ventilation grill on the left edge. This is a well-thought move that will keep the right side cool, so you can use the mouse. And another feature that made it a top Medion Erazer gaming laptop.
Hardware & Performance Review
This 15-inch gaming machine is jam-packed with superior hardware. Just the hardware selection of Deputy P10 is enough to put it among the best Medion gaming laptops. The model we reviewed came with the Core i7-10750H processor that offers a turbo boost of 5.0GHz. Plus, there is RTX 2060 (6GB) that can deliver ultimate Ray Tracing performance.
In addition to these, there is a hefty 16GB RAM with combo storage. Like many other best Medion gaming laptops, it bundles 1TB of HDD with 512GB of solid-state storage.
Coming to its gaming performance, we found the Deputy P10 among high-performance gaming laptops. We tested it by playing PUBG, Fortnight, and The Witcher at medium and high settings. We were able to get 80-100fps with vividly, bright images, while the Erazer Deputy P10 remained calm and cool.
Battery Life Performance
The battery on the Medion Erazer Deputy P10 is 60WH which is average. It takes around 1:30 hours to recharge from zero to full capacity. We tested it by running PUBG at medium settings and were able to receive around 3 hours of gameplay. This is an average performance since the brand advertises it as a top Medion Erazer gaming laptop.
Bottom Line
Overall, we found the Deputy P10 a good choice from the best Medion gaming laptops. It has splurging specs, including a high-speed Intel CPU and Nvidia RTX GPU. Despite its average battery life, we think this is a top Medion Erazer gaming laptop for budget users. In case you want to browse more high-performance gaming laptops by Medion, visit our full range at Laptop Outlet.
Also read about:
Why Oppo Phones Are Good Value for Money
Regular Use Hair Treatments to Deal with Damaged & Weak Hair
Two Areas That Will Be tackled in the AWS SAP C01 Exam