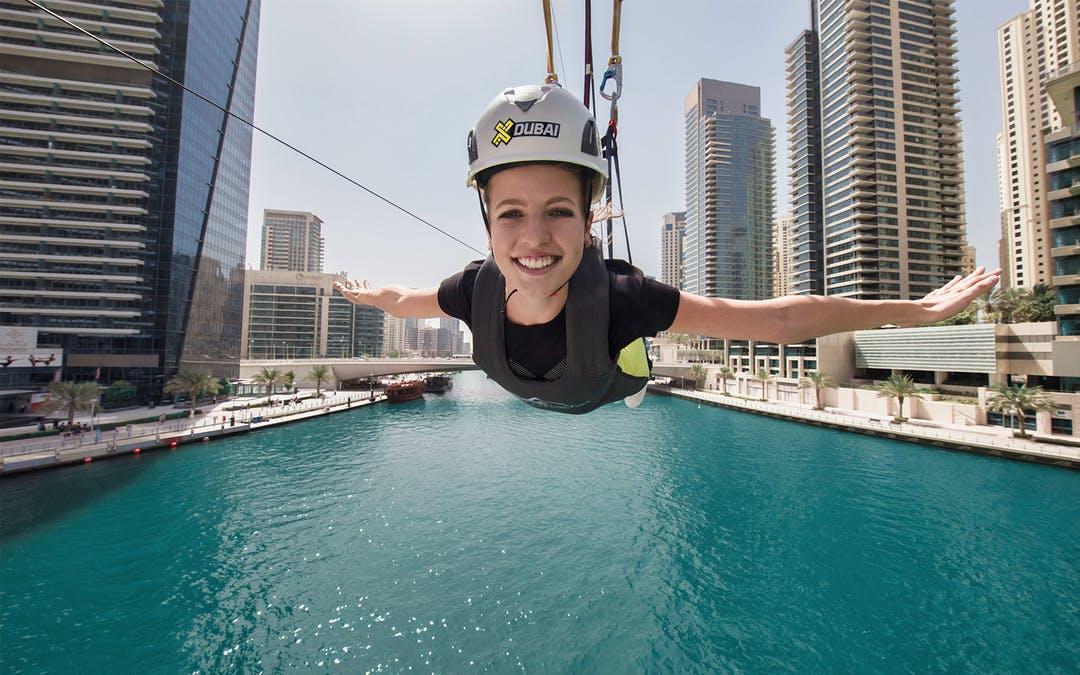 While the emirate is teeming with attractive entertainment options, it's impossible to visit them all in one go. Even if you have the financial budget to do so, you'll need a lot of time. That's because there are a plethora of landmark attractions that are worth visiting. Needless to say, each of them comes with jam-packed fun and adventure, and thus, it's a loss no matter what you leave.
However, here's a couple of things you can do to make the most of your time in Dubai:
Visit the Highest Restaurant in the World
You'll be cutting off 3 items on your to-do list in the UAE if you go to At. Mosphere, the highest restaurant in the world. Since it's located right under the observation deck of the world's tallest standing residential structure, Burj Khalifa, you can tick that as visited. Similarly, as you're already in the Downtown area, you can easily look at the Dubai Fountain as well as the Mall of Dubai. The largest mall in the world is conveniently close to Dubai Ice Rink, marking another worthy destination that's within arm's reach.
Beat the Heat with Waterparks
The emirate might be famous for having a warm climate but that's exactly why it nestles so many water parks. Visitors and locals can beat the heat by going to places like Wild Wadi Waterpark. Not only does the park offer pools of all sizes and shapes, but it also offers aquatic rollercoasters and slides that promise a thrilling adventure.
Similarly, you can enjoy the waterfront Laguna Waterpark by Meraas that also offers surfing and slides. Kids of all ages can enter but they have to be of a certain height and age to ride some attractions. Another famous park in this regard is the Legoland Water Park that is themed around the world of Legos. You can find iconic characters from your favorite franchises around which the park has been modeled.
Lastly, Aquaventure waterpark is a necessity as it's one of the best in the whole country. In addition to all the common attractions, Aquaventure prides itself with its zip lines, slides through shark-filled lagoons, and a comfortably spacious splash area for kids.
Visit Amusement Parks
It's unfair to talk about parks in Dubai and not mention the huge landmark attractions that have gained a huge reputation for entertainment. Comprising of some of the most notable destinations you probably would have heard of, make sure you visit all of the following:
Bollywood Parks Dubai
Columbia Studios Dubai
MOTIONGATE Dubai
IMG Worlds of Adventure
Adventureland
Lionsgate Dubai
Dubai Parks and Resorts
Wonderland Amusement Park
SEGA Republic
Most of these parks offer state-of-the-art roller coasters, venture rides, immersive experiences, and much more. You can even find parks like Ski Dubai that is the Middle East's first and biggest ice skating rink. There is much to explore and suffice it to say, a lot of fun awaits those who dare to do so.
Take the Safari
The desert is filled with dunes just waiting for the next adventurer to come dashing in a Rover. Or you can even go for the traditional experience in which you ride like a Bedouin on camelback and make your way to the tents.
Once you're done exploring and sit down in designated areas, you'll experience the culture of the locals and witness their traditions. Most guides will tell you stories of the nearby localities and their royal lineages as well as their current whereabouts. While it's not likely that anyone of the royal family will come to meet you, you'll certainly learn a lot on a safari.
Enjoy the Adventure Parks
Dubai is nothing if not land for adventurers and adrenaline-junkies looking to cross off items from their bucket lists. One of the most amazing parks you definitely need to visit is Aventura Parks. Promising a nature-centric experience that gives you a chance to witness the Middle Eastern flora and fauna, Aventura is not just a plain and simple green space.
On the contrary, it's filled with courses and sections dedicated to kids, explorers, adventurers, and hardcore adrenaline junkies. You'll find different courses offering sets of challenges with varying difficulty levels. You'll find the best rock climbing, rope climbing, and other adventures along with enjoying zipline in Dubai as well. All this will make your visit more than just memorable. As of now, everyone who has experienced the challenges once has always wanted more of the action. Perhaps you could be one of them. While these are just some of the attractions of the emirate, it's sure to reveal its gems to you in due time. Just make sure to spend long enough for the emirate to open up to you.
Also read about:
How to Pass AWS SCS C01 Exam with AWS SCS C01 Dumps
Stunning summer outfits ideas for all fashionista girls
The Importance of Having a Good Credit History