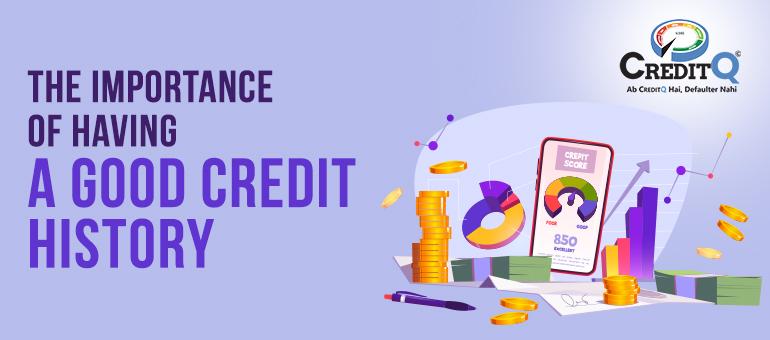 Your credit history tells a lot about your business to your potential creditors and lenders. It measures your ability to repay your debts, alongside informing you about the types of credit accounts, how much you owe the other business, whether the bills are being paid on time, etc. Your business credit report contains all this information besides detailing any bankruptcies, tax liens, judgments, and collections.
You can check your credit history through your business credit information report or CIR. Many business credit reporting companies like CreditQ prepare business credit reports of several businesses and MSMEs undertaking crucial information like your company's financial performance, public records, payment history, etc.
As an entrepreneur, you should know the importance of having a good credit history. It comes with easy credit interest rates and terms that could facilitate your business in terms of expansion or opening a new division.
Why is Credit History Important
Lenders and investors use your credit information report to analyze and evaluate your company's creditworthiness. Your credit history decides whether a lender is willing to extend credit to your business or if an investor is interested in financing your business. While reviewing your business' credit history, your potential creditors may assess different factors like the length of time a credit account has been active, recent activity on the account, and regularity of repayments.
MSME business services are impacted as they would need a regular cash flow or may depend on their creditors for business expansion. If they maintain an impressive credit history, it becomes easy for the business to attract the right kind of people. Vendors and suppliers would be willing to contribute to the running of your enterprise, directly or indirectly.
Let's talk about the benefits of having a good credit history
When you pay your bills on time, clear off your debts or reduce them, it boosts your borrowing power, and the market sees you as a potential payer with the financial ability to pay and do business ethically. Not only do you get favorable terms and rates on credit, but you also enjoy positive reviews from your clients and customers.
As a businessman, you must be thinking on the lines of finding ways to attract potential lenders. There's no harm in taking credit if you can repay the amount on time. With that said, keep a check on your credit history. Ask yourself if you're availing of the credit facility unnecessarily with no aim of investing it in the right place Are you purchasing unwanted office furniture or equipment from the credit? As you answer these questions, you would know that it affects your business credit report and score.
Now let's talk about the consequences of having a bad credit history
Businesses with a bad credit history are likely to suffer in the longer run. Firstly, they would have to repay the existing debts even if they manage to get the next credit line. It reflects your payment habits concerning your inability to pay your dues on time and not being able to reduce the existing debt. This way, your business may experience a cash crunch in times of emergencies, and you may have to find ways to survive.
Many factors contribute to bad credit history, such as missed or delayed payments, keeping the credit utilization ratio high, applying for the next credit in a shorter period. Take note that all this may lead to bankruptcy.
How Can You Maintain an Impressive Credit History
You need patience in the first place. You must look at everything from a certain perspective and find measures that bear fruits for your business in the longer run. Start by repaying your vendors on time. If you've got an existing debt, you may want to reduce it or clear it off before the expected time. For this, you've to manage your finances well and start budgeting so that you've enough cash to meet your daily business needs and pay your creditors simultaneously.
On a related note, it's equally important to save your business from suspected fraud. If you're the creditor here and your business credit defaulters are not willing to settle payments anytime soon, you can seek professional guidance. Credit reporting bureaus like CreditQ can help you in the payment settlement process. Their experts intervene and act as a middleman between you and the client. After verifying all the important information about your debtors and reviewing submitted documents thoroughly, they begin the payment settlement process. You'll be at ease in receiving your stuck money back with less hustle. So, this was all about credit history and how it can affect your business in general. When working with a new client, it's advised that you check their business credit report and analyze their company's worth. It saves your business from unexpected risks.
Also read about:
Surrogate Parenting Services How To Disclose Surrogacy To Your Child
Health Benefits of Roses
How to Choose the Best SEO Company For Business