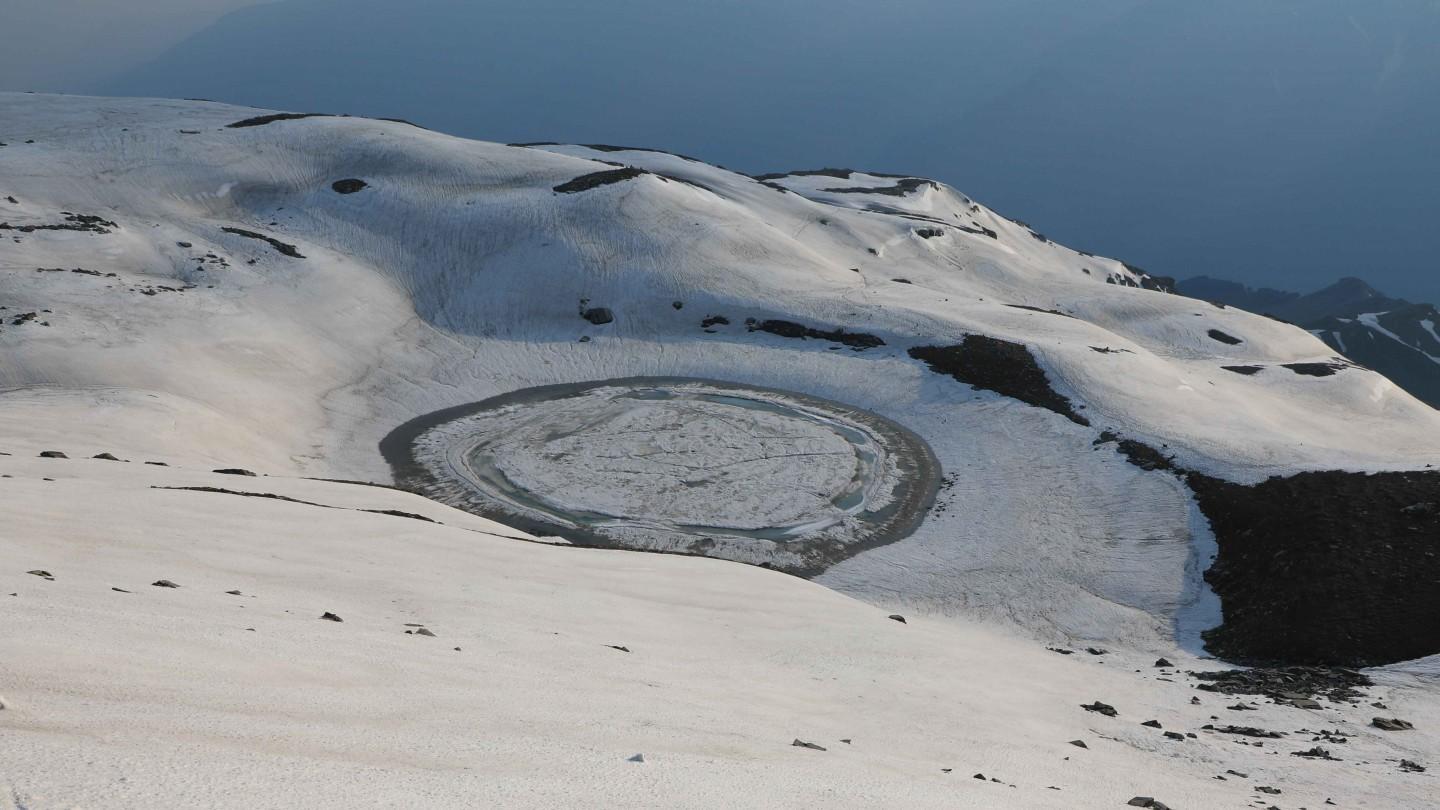 Location: Bhrigu Lake or Birghu lake is a lake located at an elevation of around 4300 meters above sea level in the Kullu district of Himachal Pradesh, India. It is located on the east side of the Rohtang Pass and is around 6 kilometers from Gulaba village in Himachal Pradesh.
This place apart from having scenic beauty is also known for its famous tale about the famous saint Maharishi Bhrigu sat in deep meditation making it also a sacred place. Apart from trekking in the lake, it is also known for its luscious green grasslands.
The entire land has an alpine meadow in this place and one has to trek for at least 2-3 days to just observe what the trek has to offer. If one wants to enjoy the astounding grasslands, this trek is a perfect place for those people.
The alpine grasslands are almost 11,000ft above the tree line and are definitely worth watching. The scenic beauty of this lake reminds you of the beauty of Switzerland as one finds certain similarities.
One can watch the wild horses and sheep grazing in the middle of these beautiful meadows almost making it very beautiful scenery.
One can see the Pir Panjal and Dhauladhar dominating the skyline.
If one does this trek from July to September, you'll see the meadows. One can see the beautiful vibrant wildflowers everywhere and also some beautiful butterflies around those making it a very soothing beauty all around.
It is a four-day trek and gives you a good idea of what Himalayan trek has to offer which is meadows, glacial, lake, mountain views. One has to climb for about 14,000ft. so you experience the thrill of a climb as well.
This trek can be great for beginners or families looking for time to spend with their families. One can enjoy the beautiful stargazing experience and a very personal experience to enjoy the bonfire with your close ones.
Perks: One can enjoy the amazing experience of stargazing at night and also sharing the tent with your loved and precious ones is also a very refreshing experience.
Dancing, singing and spending the gala time together with your groups is something one can find this as a perfect place to go for and also watching the sunrise in the Himachal ranges which is a very astounding view and watching the basic life of the nearby villages can turn out to be a very moving experience.
Instructions: One should remember to wear warm and comfortable clothes which are suitable for you to match the weather condition as the temperature can even sometimes drop in that place. One should pay attention to the instructors and the guides and consumption of alcohol or any other intoxicants are prohibited.
One shouldn't do trekking at night. And also should carry some basic medications with them. Energy bars are recommended to carry during the trek and also one should bring the surplus amount of moisturizer, lotion, sunscreen with them. One is also advised to wear the sunglasses during the daytime and since the place is an eco-friendly zone, the villagers and the local town people do not encourage nor entertain people littering in the sites or near the campsites.
One is also advised to take a proper consult from the physician before starting the journey.
The trekkers and the travelers are also advised to carry some medical ailments.
One is advised to follow the guidelines of the state governments.
The trek is about 12 KMs but is steep so one if wants to go for this thrilling experience, they should better watch their pace of feet also keep their health in mind.
One should also carry a small shovel with themselves to remove feet of snow if in case there is an unpredictable heavy snowfall. One doesn't have a washroom facility or toilet facilities in the Triund trek. One should carry a backpack of about 40L to 60L and it should be waterproof.
One should take care of their waste as the entire location for a very eco-friendly method. One should also have at least 10 tablets of Cros in their medical bag to cope up with frequent headaches which are very common in this trek.
Also read about:
Chopta Chandrashila Trek a perfect destination to your vacation
TOP TEN TREKS IN INDIA
The Technology And Science Behind Yeast And the Procedure of Making the Bread Rise